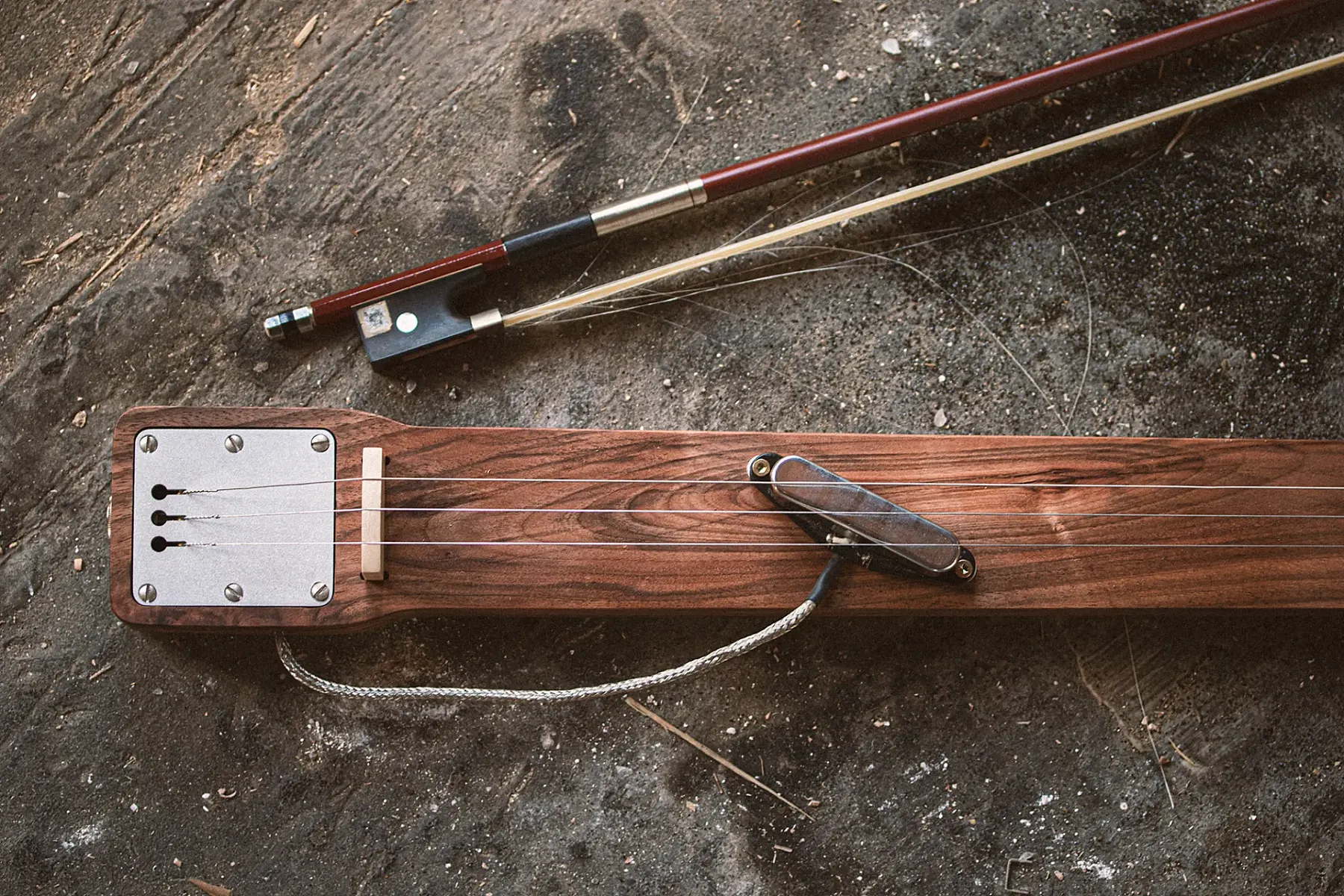 Dohle - a stringed instrument for sound explorers  
Guitarist Tom Zimmer had the idea of a stringed instrument that could be played well with a bow to create epic pad sounds. He asked me if I could imagine designing it. A few sketches and a prototype later, the "Dohle" was born.
A few weeks after handing the instrument over to Tom, I saw him play it as musical accompaniment for a play at the Volkstheater in Munich. I was overwhelmed by the wide range of musical expression he found with his new instrument.
So we decided to make a video showing his different playing techniques. Please make yourself comfortable and prepare for a psychedelic sound trip.
To see this video, accept all cookies.
First draft created with Autodesk Fusion
I made some hand drawings and created a first 3D model that already outlines the basic design ideas of the instrument. The basic shape is very slim and the nut and saddle are raised to make the instrument easily playable with a bow. Our initial idea was to mount the instrument on a sawhorse so that even very steep angles with the bow would not cause problems when touching a body.
Herstellungsprozess
This quickly turned out to be a perfect project for my Shaper Origin and the workstation that goes with it. Basically all parts including the aluminum plate to cover the electrical compartment were made with these tools.
The workstation came in extremely handy especially when milling the hole for the output jack. Since it was already set up, I also engraved the name of the new owner.
Of course, working with the really hard walnut and the 3mm thick aluminum plate requires stamina, but in the end I was very happy with the result.
Endergebnis
The "Dohle" is made of walnut wood. The maple nut and saddle contribute to a defined tone with a lot of force. The bridge is optimized so that the strings do not break when hit hard with a stick, without creating a sitar effect.
The distance between the tuners is increased so that they are easily accessible, as detuning the instrument while playing was a key musical consideration from the beginning when discussing this guitar.
Both the tuners and the pickups were recycled from leftovers from previous rebuilds to reduce construction costs and create a certain "worn-in" feel.
This website uses Cookies
We use our own cookies and third-party cookies so that we can display this website correctly and better understand how this website is used, with a view to improving the services we offer. A decision on cookie usage permissions can be changed anytime using the cookie button that will appear after a selection has been made on this banner. More details